Page 5 - PIC Magazine Autumn Issue 16
P. 5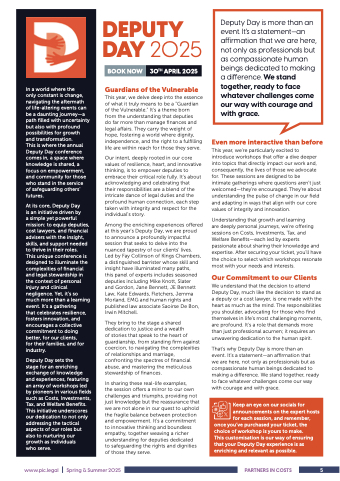 AUTUMN EDITION ISSUE 16 CONTENTS
           CPR 3 & PD 3E – The seasons change, and with predictable regularity, so do the Civil Procedure Rules.
22
   Welcome to Partners In Costs 3 All Change At SCIL? 6
Paul Rumley, Royds Withy King
Compensation For Skin Camouflage 8 – An Underused Tool in Litigation
Babs Forman, Skin Confident
SIA: Building A Network For Everyone 11 Nik Hartley OBE, Spinal Injuries Association
Robust Rhone Style Red Wines 12 Diana Lyalle, The Cellar Under The Stairs
QOCS 13 Richard Adams, No5 Chambers
Asbestos Disease Sufferers Versus LASPO 14 Harminder Bains, Leigh Day Solicitors
Civil Procedure Rules – Update No. 124! 16 Emma Ganley, PIC
Neurologic Music Therapy 18 Daniel Thomas, Chroma Therapies
PIC Events 20 Child Brain Injury Trust
An Interview With Kerstin Scheel 21 Royds Withy King
CPR 3 & PD 3E Autumnal Changes 22 Dominic Woodhouse, PIC
Guideline Hourly Rates: 24 Up, Down or Just About Right? Matthew Waszak, Temple Garden Chambers
Conducting The Orchestra In Lockdown 27 Anne Armitage, Bush & Co Case Manager
Looking For Tips On How To 28 Maximise Court Of Protection Costs?
Paul Cruickshanks, A&M Bacon
Take The Train 30 Professor Dominic Regan,
Dominic Regan Training Ltd.
31
    Up, down or just about right? Matthew Waszak of Temple Garden Chambers talks hourly guideline rates.
 24
   12
Wine Specialist Diana Lyalle provides the very best red wine recommendations.
You Ask...
Costs Officer Sonia Ponceby-Thwaites
 STAY SOCIAL
website www.pic.legal
PIC Legal
Costs Specialists
       www.pic.legal
Autumn 2020
PARTNERS IN COSTS
5
 Cheeky
Red Anyone?