Page 4 - PIC Magazine Spring Issue 15
P. 4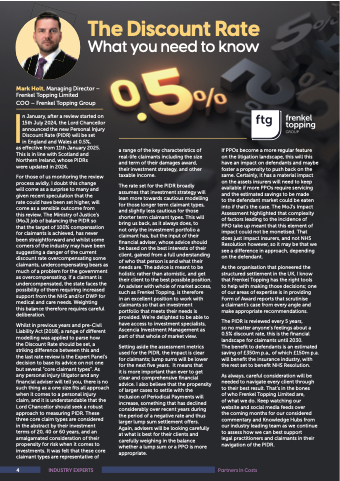 WELL DONE SHILPA, WE LOOK FORWARD TO SEEING YOU THERE!
          CONFERENCE 2020
This year, the Costs Law Reports Conference will take place on 24th September 2020 at a brand-new venue, The Honourable Society of Lincoln's Inn in London.
We are delighted to announce the team of confirmed speakers, joining our Conference Chair, Colin Campbell.
Our confirmed speakers are; Senior Costs Judge Andrew Gordon-Saker, Alexander Hutton QC of Hailsham Chambers, Roger Mallalieu QC of
4 New Square, Sarah Lambert QC of 1 Crown Office Row, Master
Victoria McCloud, Simon Browne QC, Matthew Waszak, James Laughland and Richard Wilkinson all of Temple Garden Chambers, Professor Dominic Regan of Dominic Regan Tailored Development.
KEYNOTE SPEAKER TO BE ANNOUNCED SOON!
OUR SPEAKERS WILL COVER ALL TOPICAL AREAS OF COSTS;
Last year Shilpa Shah, Barrister at Ropewalk Chambers won a free place at this year's Conference. Here's what she has to say about the conference, which she has attended every single year!
What did you find most enjoyable at the 2019 Costs Law Reports Conference?
Frankly, there wasn't a dull moment! Each and every talk was topical, incisive, interesting and was brilliantly presented.
For me, this was also an invaluable opportunity to meet and discuss the issues with the knowledgeable and very approachable speakers. I had some enlightening discussions, and passionate debates, throughout the day!
 The ten presentations were thoughtfully planned, they were the topics of most interest and relevance and each was efficiently and well delivered. The whole programme was 'packed with goodness' and professionally presented (and timed to perfection). The seminar notes
    and delegates' pack were readily accessible and contained very useful reference material.
 Getting the retainer right: what is "informed approval"?
The court refused the application under PD3E 7.6 to increase the costs budget for "substantial developments". Can the Costs Judge do so under CPR 3.18(b)
if "good reason" is shown or is it res judicata?
Does an indemnity basis Costs Order make any difference?
The client says he is entitled to an "additional sum" of £75,000 because he beat his own Part 36 offer, which was made "exclusive of interest". What should the firm do?
The receiving party has beaten his own Part 36 costs offer. He is a Defendant, so the CPR 47.17(4) benefits do not apply. Correct?
Conditional Fee Agreements: the firm wants out: how can the solicitor jettison the client and still be paid for the work which has been done?
The Costs Judge has completed the detailed assessment and is
looking at individual items under CPR 44.3(5) applying West. How can a proportionality assault on the "reasonable and necessary" costs, be repelled?
Disaster: the budget has been served and filed late. The relief from sanctions lifelines.
All things electronic in the courts.
Is there any life left for paper-based bills and supporting files?
Fixed costs under CPR 45. The escape routes to obtain orders for "costs to be assessed if not agreed" explained.
Settling the case and/or costs orders at trial and/or discontinuance under CPR 38: how not to do it (thereby losing the lot) or winning the case but having to pay the costs... Bullock and Jabang orders.
ADR, ENE and Mediation. Avoiding the Part 36 risks, proportionality and the electronic bill.
Crystal ball gaze. What is the future of costs in 2020/2021?
I also enjoyed the 'after party' drinks where introductions were made, and some contacts were forged. Again, invaluable.
What did you learn from the speakers?
Listening to the many accomplished speakers was confirmation, if any were needed, that costs continues to be a very fluid and fast-moving area, with genuine speciality and expertise required to keep up to date with case law and the hot topics of the day.
Would you recommend others
to attend? If so why?
Absolutely! For me, there is no substitute for hearing directly from the brilliant speakers and learned Masters, including the Chief Master at the SCCO, their analysis on the sticky issues of the day, their tips and practice points.
         The demonstration of an assessment using the electronic bill from Master James was exceptional and whilst she made it look easy (that's the advantage
     of her own brilliance and many years' experience),
    she delivered an excellent tutorial that has very much added to my own knowledge
     WIN
A post from our live Twitter feed on the day using #CLRConf
     A place at the 2020 conference
Our WINNER will be announced after the conference. 4
#clrconf
On Twitter
@CLR_ CONFERENCE
TO BE IN WITH A CHANCE TO WIN A FREE PLACE
   and confifidence in approaching these bills.