Page 10 - PIC Magazine Spring Issue 15
P. 10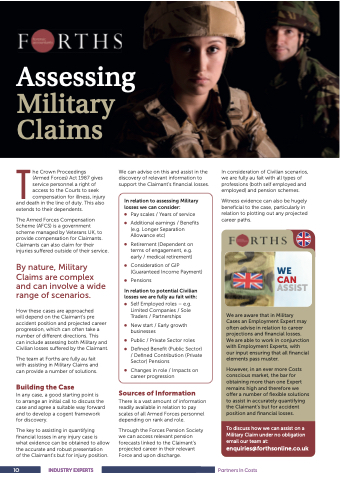 ualified One-Way Costs Shifting (QOCS) like so many areas of costs litigation, could be described as the gift that never stops giving to costs lawyers, as a relatively brief set of provisions are riddled with
ambiguities and unintended consequences.
Last year, a decision of the Court of Appeal added
to the mix, in Brown v The Commissioner of Police
of the Metropolis [2019] EWCA Civ 1724 which has something to say on the categorisation of mixed claims, a term not actually to be found in part 44 CPR, but which aptly describes the situation where part
of an action is concerned with a claim that attracts QOCS protection, and part of an action includes a claim which does not attract QOCS protection.
In other words, where a personal injury claim is brought in the same set of proceedings as other claims and the "streams" of litigation are crossed. In such circumstances, what is the court at first instance meant to do, when determining if and to what extent the triumphant defendant can enforce its award of costs?
   10
                            Andrew Hogan is a Barrister at Law at Ropewalk Chambers. Here he talks about QOCS and mixed claims.
      Egon: Don't cross the streams.
Peter: Why?
Egon: It would be bad.
Peter: I'm fuzzy on the whole good/bad thing. What do you mean "bad"?
Ghostbusters (1984)
INDUSTRY EXPERTS
Partners In Costs
The issues vexing the Court of Appeal were put in these terms:
1. This appeal concerns the rules relating to Qualified One-Way Costs Shifting ("QOCS") at CPR 44.13 – 44.16. QOCS provides automatic costs protection to a claimant with a claim for damages for personal injury, so as to ensure
that, win or lose, such a claimant does not emerge from the proceedings with an adverse cost liability. In the present case, the claimant (whom I shall call 'the appellant') made various claims arising out of the respondents' wrongful obtaining and use of private information about her. It was what is often referred to as a 'mixed claim'; that is to say, her claims included a claim for damages for personal injury, but also included claims for non-personal injury damages and other relief. Claims for general damages for misuse of the appellant's personal data were upheld by the trial judge, but he rejected her claim for damages for personal injury. In circumstances where the appellant failed to beat the respondents' Part 36 offer, resulting in adverse costs orders against her, the question is whether the appellant can automatically avoid the enforcement of those orders by relying on the QOCS regime, on the ground that one of her failed claims was a claim for damages for personal injury.